Play Now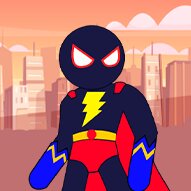 In Stickman Training Hero, get ready to stop the bad guys with our Superhero Stickman! Every hero needs to be trained to become invincible. It may be rough for a while, but when you get to his side, nothing can stop you both! Jump into 4 different practices, extend your limits, and do what it takes to be the best. If you are ready now, let them come over you!
A hero needs your help once again! Will you let him down? Of course, not! You will jump into the game right away and show the bad guys who the real boss is! In this fun action game, your objective is to destroy the enemies in each practice and take this superhero's talents to the maximum. In this first adventure, help the stickman dodge the obstacles with his speed and high jumps. In the second one, shoot the enemies without a blink. In the third, fly above the building and collect the gems! In the last adventure, you must fight with all your power to put an end to this war. Don't forget to collect all the gems to level up your character in each adventure! Good luck guys!
Looking for more bad guys to stop? We have the best game collection for you! Let's check our collection of free and online action games now.
Developer
kiz10.com developed Stickman Training Hero.
Release Date
September 3, 2021
Features
2D graphics
4 different game modes
No levels to pass
Adventurous gameplay
Controls
Use the left mouse click to jump, fly and shoot, right-click to aim, WASD to move and Spacebar to hit. On mobile devices use the on-screen controls, touch the screen to aim, shoot, jump and fly.