Play Now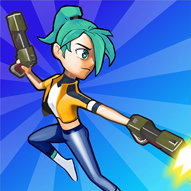 In Shooter Rush, stay tight and load your gun! You need to be as fast as you can to shoot the aliens! They are all over the area in groups. Collect the money on the ground and buy more powerful guns to get stronger against them! Are you ready to fight and destroy, or else will you let them conquer the world?
The people need you to protect them! Aliens are about to take over the world! In Shooter Rush, your goal is to kill the enemies and bring about peace again. To control your hero in this adventurous game, you can use your mouse, click, and direct it. Click the left button just once to turn him around. When the aliens are too close to you, shooting begins automatically. If you cannot control the situation and think that you won't be able to kill them, move back. When you are not in their view, they cannot attack you. You also earn money if you succeed to kill them all. With the money, you can buy better weapons to boost your power. You can also use the slot machine to match the items and win new features. You will face more dangerous aliens, as you pass the levels. Be careful, kill the aliens and make the world peaceful again!
Do you want more excitement? If you say yes, play our Stickman Shooter 2 game free and online now!
Developer
BPTop developed Shooter Rush.
Release Date
September 21, 2020
Features
Colorful 2D graphics
Gun shooting
Several stages
Action-packed gameplay
Controls
You can control the hero by using your mouse.