Play Now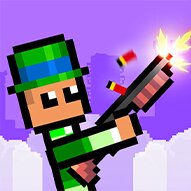 Experience unique aim mechanics with your friends or by yourself with Pixel Smash Duel! Dive into a pixel world, change characters every round, and use weapons that come with exclusive skins! Master the control of two simple commands and use them precisely to make your opponents fall off the edge first!
This duel is not about shooting your enemies to harm them. You shoot to push them further from you and closer to the edge of the platform. The thing is, you cannot just adjust the aim; you can only raise your arm and release it to shoot! You must calculate with milliseconds to hit the target. Shooting the enemy's feet creates a lower impact than shooting his head, but it is also much easier. Your enemy also has a weapon, so that brings us to the second control: jumps. You can jump to avoid enemy bullets, however, these jumps can push you in random directions and cause you to fall and ultimately lose even without getting shot. Get different characters, duel with changing enemies, and explore new backgrounds and arenas every round! Enjoy the pixel theme while learning and getting used to new duel mechanics!
If you like multiplayer challenges, you can check out Stick War: Infinity Duel and grab the guns falling from the skies to shoot your enemy!
Developer
RHM Interactive developed Pixel Smash Duel.
Release Date
May 17, 2022
Features
1P and 2P options
Changing skins and backgrounds
Unique character design
Available on mobile devices
Controls
Player 1 can use "W" and "E" to play, while Player 2 can use the arrow keys.