Play Now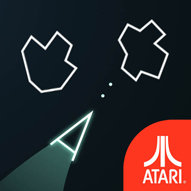 Atari Asteroids is for shooter arcade game addicts who are looking for some challenging space-themed adventures! If you are up for taking the control of the spaceship to shoot the asteroids before they hunt you alive, let's waste no time and dive into the game now!
Go to space they said. It would be fun, they said. As dangerous as it is fun, though! Discovering the space with lots of asteroids and saucers can be challenging but you gotta trust yourself and your control over the spaceship. In this fun shooter arcade game, your objective is to stay alive as long as possible while collecting points. To do so, you should destroy everything you see in the environment and also you gotta avoid hitting them. Use the WASD keys or keyboard arrows to move the spaceship and press on the SPACE BAR to shoot. Or you can simply play this game from your phone and the fingers would work too. The asteroids break into small pieces which can make you cause your own death. The saucers shoot as you do, so you should watch out for them more closely. The down arrow and the "S" key are for the Hyperspace feature which allows you to be beamed in the space. As you proceed in the game, it gets much harder for you to move around. Take control of your spaceship and you be the one who challenges the asteroids!
Don't go now! You should try Atari Centipede if you really enjoy playing classic Atari games.
Developer
Atari developed this game.
Release Date
February 10, 2021
Features
2D colorful graphics
Challenging arcade shooter game
Various points to earn
Fun and engaging
Controls
WASD keys or the arrows to move around. Down arrow or the "S" key to use Hyperspace. The SPACE BAR to shoot.