Play Now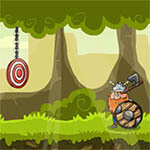 In Viking Workout, get ready to show off with your muscles and aiming skills! Vikings are known for being strong and threatening. But being famous like that requires plenty of workouts of course! In this fun skill game, you become one of the greatest warriors of history. Can you prove how much you have improved by throwing all the axes towards the targets?
We hope you get enough rest because today is going to be real busy for you! In this fun skill game, your objective is to shoot all the targets with the minimum of shots possible. You will encounter various obstacles coming between your strong ax and inevitable targets. Make up a good plan to hit two birds with one stone without touching any obstacle. The fewer shots you make, the more stars you will get. At the left top of the screen, you can see the number of shots you have made so far, and next to it, check the maximum shot numbers to get the given stars. There is a lined guide to help you with aiming. You can stop the game or restart the current level at the right top of the screen. Last but not least, you can see your current level at the left bottom, and don't forget that you can play a level as many times as you want to get more stars. Good luck and have fun!
You can check our collection of free and online skill games by clicking here to browse more fun titles like this game.
Developer
Demonte Maximiliano developed this game.
Features
Colorful 2D graphics
Several adventures to pass
Various obstacle to avoid
Entertaining and addictive gameplay
Controls
You can play this game with your mouse.