Play Now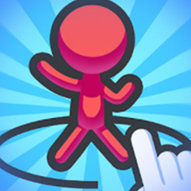 Draw Defence is here to challenge you with its different gameplay style than many other tower defense games. Grab your mouse and start drawing to summon your powerful units to stop the attack of your enemies. Do you have what it takes to halt the march of your foes and defeat all of them through multiple challenging levels?
Some commanders shout out their orders, but you're different. To summon your soldiers, all you need to do is to draw lines on the battlefield. Your objective in this game is simple. You try to pass each level by defeating your enemies before they get a chance to breach your defense and destroy your castle. You can play this game with your mouse, so put away that sword! From archers and cavalry to a hurricane and a meteor, you have 6 different units to summon. To call them to the battlefield, you need to draw a shape specific to each unit. Click on the question mark on the right side of the screen to see the shapes. Keep in mind that you have a limited amount of ink, so you should use it carefully. After each victory, you earn coins. These can be used to upgrade your stats and make you more powerful. Enjoy!
Don't forget to check our collection of free and online strategy games for more fun and challenging titles like this one. Click here to visit our collection page now!
Developer
YAD developed Draw Defence.
Release Date
November 30, 2020
Features
Colorful 3D graphics
6 different ways to attack your enemies
Intuitive controls
Entertaining and addictive gameplay
3 different upgradable stats
Controls
You can use your mouse to play this game.