Play Now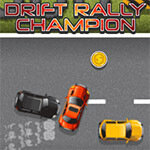 In Drift Rally Champion, get ready to do your best to perform your amazing driving skills! You are about to start one of the most exciting car races against best ranking drivers. But only one will get to be the champion and it has to be you! Take control of your new brand sports car and trust your fascinating rally drifts now!
Be ready for a big racing competition in which you cannot win without drifting! In this rally championship, all the spots are on you and the audiences are screaming your name. To win this competition, your objective is to perform perfect drifts that allow you to beat the other CPU drivers and pass the levels. When the game begins, your car will automatically start to move. Use the right and left arrow keys or the "A" and "D" keys to perform your moves. You should pass your opponents to get stars and rewards at the end of the level. Try to collect as many boosters as possible and coins during the competition. You can use your earnings to customize your current car and upgrade to strengthen your vehicle. Check your place from the top of the screen. As soon as you complete the second round the game will be over so, you gotta be quick! Good luck!
Don't forget to check our collection of free and online cars games by clicking here to join more exciting championships apart besides this one!
Developer
Ozdy developed this game.
Features
2D colorful graphics
Various stats to upgrade
Car customization
Multiple competitions to win
Controls
Use the right and left arrows or the "A" and "D" keys to drift.