Play Now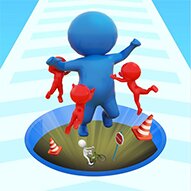 Become the new nightmare of humans with Epic Hole Runner! Take your place on the platform as a tiny black hole, devour everything but the red barrels, and grow to swallow the whole world! Build strategies, think and react quickly to changing circumstances, and complete levels with the maximum diamonds!
No one enjoys the thought of becoming space food. We fear what we do not know, including the inside of a black hole. We cannot show you what is inside, but you can now become a black hole and unleash this terror on other people! This track is built to improve your skills and appetite as a black hole. Humans have no idea how to shrink black holes, so you are free to eat everything you want, except for these red barrels. While the green barrels add some extra numbers to your size, the red ones decrease it. Focus on avoiding them and mainly catching humans. Also, eat as many side objects as possible to make it to the end of the platform. You can earn and save diamonds and use them to increase your starting size and rush time at the main menu. Bon Appetit!
If you like this hilarious race, you can check out our Running Games to find similar games! Have fun!
Developer
Brosco Games developed Epic Hole Runner.
Release Date
August 31, 2022
Features
Nice 3D graphics
Interesting and funny theme
Improvable player stats
Challenging running course
Unlockable skins
Controls
Use your mouse to control the black hole.