Play Now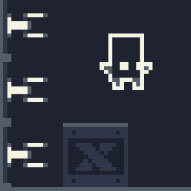 In Escape Kid, get ready to challenge the odds, evade the obstacles, and complete the puzzles to find a way out! Alone in a dark world surrounded by traps and dangers, do you have the wits to overcome the problems you're about to face?
Being trapped is not fun, but luckily, you can find a way out if you think hard enough! This addictive game features 15 different and challenging levels for you to complete, so start playing now! Your objective is to escape from each level by activating the door and opening it, by solving the puzzles. Each level features mirrors and a laser. You should adjust the angle of the mirror and then fire the laser and make the beam travel to the engine to activate it to open the door. Be careful though! Some levels have enemies in them, and the only way to get rid of them is to hit them with the beam. When you activate the door and open it, you must run! The wall will enclose, and getting caught in it will kill you! Can you survive all the levels?
Looking for a similar challenge? Why not try our other fun title, Slime Rider next? Enjoy!
Developer
Magnific Studios developed Escape Kid.
Release Date
September 7, 2021
Features
2D pixelated graphics
Intuitive controls
15 different levels to complete
Challenging level design
Entertaining and addictive gameplay
Controls
Use your Use the A and the D keys to move left and right. Press the W key to jump. Press the Z key to activate lasers and rotate mirrors. Use the touch screen controls to play on mobile devices.