Play Now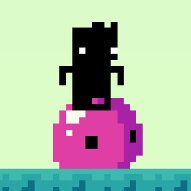 In Slime Rider, you need to help this slime to get out of this maze-like platform! It can walk by itself, but somebody needs to show the way! And you are exactly the right person to do that! Are you ready to see how far you can go in this puzzle game and test your skills? Have fun and good luck!
You need to ride your slime to victory! They say ''The journey matters more than the destination.'' But this time you have to reach the destination to get out of this maze! This slime is too weak to handle it alone, so you need to accompany him on this adventure! Are you ready for the adventure? Then click on the play button to start right away! You don't have direct control over your character's movement, he can run. To control the platforms, simply press the left mouse button or the space bar when you approach the signs. Each sign is painted in a distinct color. The platforms that will be deactivated are represented by each color. To get to the door, you must deactivate the correct platforms. As you proceed with the game, you will face extra obstacles and signs. Do you think you'll be able to finish all of the challenging levels in this puzzle game? Best of luck!
If you want to play more adventure games, and try another one similar to Slime Rider, then be sure to check Bloo Kid 2, too.
Developer
Light Wolf Studios developed Slime Rider.
Release Date
July 19, 2021
Features
Many levels to complete
Colorful 2D graphics
Intuitive controls
Fun and addictive gameplay
Controls
Press the left mouse button or the space bar to interact with signs. Press the shift key to fast forward.