Play Now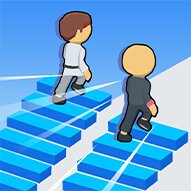 Survive by building stairs on an endless track with Stair Run Online 2! Stair building is a serious job, but what if there was a track to test these skills by placing random obstacles on your way? Here, you have to build to pass over barriers and stay ahead of your competitors!
The logic of the game is pretty simple: collect the bricks to build stairs and stay on the track. Of course, managing the material income and outcome can be a little tricky. Keeping enough bricks in case of emergencies is the real challenge of this race. You must keep up with the pace of incoming hazards, still have a few pieces, and stay prepared for the worse. Your patience and survival skills will be rewarded with a speed boost once in a while, helping you pass your opponent. Don't get distracted by their failures and focus on your road. Try another skin on each game to find your style on the track. Earn gold from your achievements and unlock random skins permanently. Master the art of building and running among skyscrapers. Get better at using your materials and face new types of obstacles!
If you like running games with funny skins and challenging obstacles, you can check out Skates Sky Roller and try a brand new futuristic type of skating!
Developer
YAD.Com
Release Date
April 25, 2022
Features
Colorful 3D graphics
Unlockable content
Fun and addictive gameplay
Available on mobile devices
Controls
Use your mouse to start building stairs and release to stop.