Play Now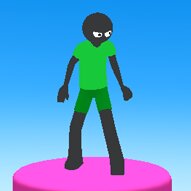 Build bridges toward the finish line with Stickman Planks Fall! Join the survival tournaments above clouds and pave paths to pass your opponents! Pick up planks and use them to reach sky islands with gold keys and surprise skins! Get the others eliminated and guarantee your place on the scoreboard!
Ready yourself for a game of speed, strategy, and practice! Cunning is what gets you far on this track of tricks. So, ready yourself for a race of strategic building and step on the platform! Stay among the qualified to earn your place for the next race in this three-round tournament. Players are arrowed to build alternative tracks in this world, but they must use the planks they collect. So, you must plan carefully not to run out of planks mid-air because falling gets you disqualified. Stay on the track until you get enough wood, and then start building little shortcuts to leave your opponents behind. You can also use your planks to create alternative ways to avoid obstacles and traps placed on the track. Use gold to upgrade your planks and speed from the main menu. Try all skins and find the right style for your character.
If you like this 3D survival challenge, you can check out Stumble Boys Match and test your skills in a series of random challenges!
Developer
Stickman vs Monster School Team developed Stickman Planks Fall.
Release Date
August 22, 2022
Features
Nice 3D graphics
Unlockable skins
Upgradable character stats
Addictive survival matches
Available on mobile
Controls
Use "W, A, S, D" or your mouse to control your character.