Play Now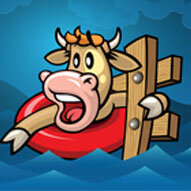 You are the new Farm Hero from now on! Your job is to connect the animals so that they will never be alone again! Something happened on this farm and all the connected animals were set free. They want to find each other but the farm is huge, and it looks like a maze. So, what do you think? Will you be able to gather those animals once again by solving the puzzles?
What happened here? Oh no! A squirrel decided to come against the farm because the nuts were not enough! It must have gnawed the ropes of the animals. Now, all the animals spread different parts of the farm and we must gather them. When you enter the game, you'll see our maze-looking farm. What you'll do is to connect the animals with the ropes. You can see the ropes on at least one side of the animals. Don't forget that only the ropes can be connected. So, you should replace the animals in such a strategic way that the ropes can be connected. The faster you connect them, the more stars you'll get. As you proceed in the game, you can find out some tricks. For example, you can use the holes as shortcuts. You have a limited time to connect all the animals. Check your remaining time from the left top of the game screen. Good luck and have fun!
If you want to try another game similar to this one, then be sure to check Mr. Journey Fox.
Developer
Inlogic Software developed this game.
Release Date
March 17, 2021
Features
2D colorful graphics
Several levels to complete
Different animals to connect
Racing against time
Controls
You can use your mouse or finger to play this game.