Play Now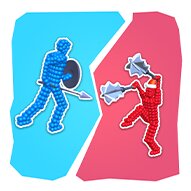 Change the rules of fighting with Fight Simulator 3D! Heroes made of the flesh are out, bubble heroes are in! Position your bubble guy in weird and strategical ways so that their sword can touch the enemy before the enemy can touch you! Choose your weapon and unlock extreme murder tools to try every possibility!
Forget everything you know about wars; this is something new! These bubble soldiers turn into dust once something hits them, so the only point of these fights is to see who would reach the enemy first. The enemy soldiers will show their attack poses once you enter the arena. You can check these poses from the tiles above and place your warrior accordingly. Always point your weapon forward so that you can increase your chances. Place your torso and head in safe positions to keep them away from blades and spears. Hit the start button once you are ready. The soldiers will run towards each other, and then get into their final positions. Your character will fall into pieces if he gets hit, but do not worry; you can try again. Earn money from successful attacks and unlock new weapons and character skills!
If you like this absurd strategy game, you can check out our other Strategy Games to find more games like this!
Developer
YAD.Com developed Fight Simulator 3D.
Release Date
July 21, 2022
Features
Colorful 3D graphics
Fun and addictive gameplay
Hilarious characters and poses
Improving strategy skills
Available on mobile devices
Controls
You can use your mouse to play this game.