Play Now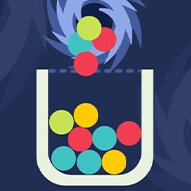 In Filled Glass 3: Portals, a fun challenge is waiting for you! This puzzle game is here to test you, so embrace yourself. Do you think you got what it takes to complete the dozens of challenging levels in this addictive puzzle game?
Portals, platforms, traps, and colorful orbs are just a few of the features of the third installment of this fan-favorite game. Your objective sounds simple, but we're sure you'll have to try a couple of times to complete the levels! All you need to do is to fill the cup with the orbs up to the line. On top of the screen, you'll see the touching screen. This is where you can click on the screen, as other parts of off-limits. You drop white orbs and must turn them into colorful ones with the help of portals. You'll encounter different traps. You can only spare 5 orbs, and losing more will cause you to lose the game. So be careful about where you drop the orbs and make sure the path they'll follow won't end up with you losing them. There are 30 different levels in the game. Each one becomes harder than the previous one! Can you complete them all?
If you're up for another game, we have a colorful recommendation! Go and try Candy Burst next! Have fun playing!
Developer
New Kids Games developed Filled Glass 3.
Release Date
September 1, 2021
Features
30 different levels to unlock and complete
Challenging and addictive gameplay
Colorful 2D graphics
Intuitive controls
Challenging level designs
Controls
You can use your mouse or the touch controls to play this game.