Play Now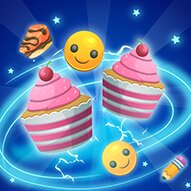 Can you find all the icons' pairs in Find Pair? Do you have the eyes of a hawk when it comes to finding things? Do you really trust that you can find anything out of a clutter? If your answers are yes, then you should try playing this game. Let's see how much of a detective you are now!
In this game, you will have a clutter of white objects at each level. The thing is that these white objects have different icons on them. The icons you will see are things no other than a mailbox, an apple, an eye, a slice of bread, a pencil, or a cupcake. You are expected to match the identical objects you see to pass the levels. Don't worry if you can't see a specific icon's pair because it may be hiding below another object. With each pair of objects that you match, you will get some points. These points come to you since you clear the table off the objects with each pair you successfully make. Time flies when you are playing this addictive fun game, though. This means you need to be careful with the time indicator on top of the screen and try to clear all the objects before time runs out. Now, collect points and beat your personal best by finding any pair as soon as possible!
If you enjoyed Find Pair, you should try playing Hello Kitty and Friends: Finder by clicking here.
Developer
RedFoc developed Find Pair.
Release Date
August 20, 2021
Features
Colorful graphics
Multiple levels to complete
Intuitive controls
Entertaining and addictive levels
Radiant and fun icons
Controls
You can use the mouse of your computer to choose the objects.