Play Now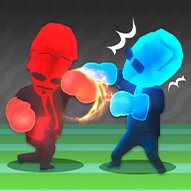 In Fire vs Water Fights, you put an end to the everlasting war between two powerful elements. Whether a duel to challenge your friends or a fight against your computer, this glowing experience will impress you with its combat dynamics and satisfying damage system.
It is easier to play than you could ask for and harder to win than you would imagine. You can choose the looks of your fighter out of two different image options. Either way, there is no doubt that you will be glowing in the arena. This fistfight may look simple, but it is essential to have good timing to keep the received damage less than the given. You gain special attacks that are also close range; using them at the right moment would be the wise thing to do. The game gives you interesting and somewhat absurd backgrounds like platforms decorated with bathtubs and toilet papers, so it might get hard to keep your focus on the fight. Win or lose, seeing these glowing stickman fighters in action will be enough to entertain you.
If you would like to play more multiplayer games like this, you can click here.
Developer
RHM Interactive developed Fire vs Water Fights.
Release Date
November 10, 2021
Features
Interesting and fun 3D graphics
Satisfying fighting experience
1P and 2P options
2 different styles to choose from for your fighter
Controls
Player 1 can use "A, D" to move, "W, S" to punch, and "G" to use Super Punch.
Player 2 can use right-left arrow keys to move, up-down arrow keys to punch, and "P" to use Super Punch.