Play Now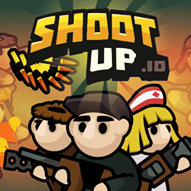 In Shootup.io, your character finds himself accidentally stranded in the town of Raven City. Unfortunately, it is invaded by the zombies! There is only one solution left. You should shoot them and kill as many of them as you can before they kill you! Will you manage to survive, or else will you wait to be eaten by the zombies?
In this abandoned city, you first need to choose your character among soldier, ninja, uncle sam, cashier, prisoner, zombie, and so on. To protect yourself, you need to kill the zombies. For 100 zombies killed, your character wins 1 bonus! Zombies will stop chasing you if you do not shoot for a certain period. You can use your mouse to play the game. Do not get too close to them, or you will be attacked by them! You can also meet other players who can either fight against them or support one another. You can find items and health packs on the ground or by destroying houses. There will some cars on the road, but be careful! If zombies hear you, they chase you. Also, be sure you have enough oil to start the car. Don't forget drifting if your car is stuck. Finally, depending on how rare it is, the same weapon of yours can be more powerful such as common, uncommon, rare, epic, and legendary. Do your best to survive, good luck!
If you want to try another action game similar to Shootup.io, then be sure to check Stick Tank Wars 2, too.
Developer
LapaMauve developed Shootup.io.
Release Date
June 23, 2020
Features
3D Graphics
Online multiplayer gameplay
14 different characters to choose
Intuitive gameplay
Controls
You can use the WASD keys and the mouse to change the direction.