Play Now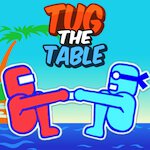 In Tug the Table, it's time to grab the table and show your rivals that you'll never let go of it! We're sure you heard of tug of war, but what happens when you replace the tug with a dining table? The answer lies in this game, so start playing now. Can you beat all your opponents, and become the table tugging champion?
We hope you have strong arms because your competitors are looking pretty ambitious, and they're willing to do anything to win! Your objective in this game is to win the matches you participate in. This game features 2 different modes. The first one is the single-player mode. In this mode, you play against the CPU. The second mode is the 2-player mode, in which you can play against your friend by sharing a keyboard. To win a match, you should score 5 points before your opponent. You can track the scores from the top left and right sides of the screen. Earning points are simple, all you have to do is to pull the table to the your side of the white line on the ground. As you win matches, you'll earn coins. You can unlock different character skins, tables, and even backgrounds. Enjoy!
We have many games here at Yepi! Have you checked our collection of free food games? Have fun playing!
Developer
105games.com developed Tug the Table.
Release Date
June 5, 2019
Features
10 different rooms to play in
Colorful 2D graphics
7 different tables to choose from
13 different character skins
Controls
Player 1 can use the W key to pull the table, while player 2 can use the up arrow key.