Flying Motorbike Driving Simulator
Play Now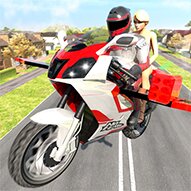 Carry the realistic riding experience above the clouds with Flying Motorbike Driving Simulator! Complete challenging missions, collect randomly placed money checks, and discover a gigantic map! Save money to unlock six luxurious motorcycles and equip them with the coolest wings! Follow the mission spots, reach the checkpoints in a limited time, and buy the best bike to level up your flight-biking game!
Ready yourself for a world with no limits! An open map you can freely roam, endless missions and chances, and no physics rules are waiting for you! Get your daily bonus, check out the six bike options and wing designs, and set your goal, or stop waiting and watch short ads to get your hands on the best speed machine now! You can also see your User Profile to follow your game statistics. Now you are ready for action! Starting immediately in the heart of the town, you decide which way you go. You can explore the streets and the riding/flying mechanics before accepting missions or jump straight into the work and start getting your pockets filled! Pick up the green dollar signs placed around the city to earn fifty dollars and reach your goal faster!
If you like driving simulations that allow you to fly, you can check out Real Flying Truck Simulator 3D!
Developer
Driving games developed Flying Motorbike Driving Simulator.
Release Date
June 15, 2022
Features
Nice 3D graphics
Detailed controls
Realistic riding and flying experience
Unlockable vehicles
Controls
"W, A, S, D" to move, "F, G" to open and close wings, shift for nitro, space for brakes, "C" for the camera, "R" to reset the vehicle, Esc for the main menu.