Play Now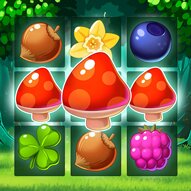 Get lost in the enchanting forest of magical fruits in Forest Match. A new and magical match game is here for you to have the ultimate fun. Get your hands on these tiny colorful fruits and pop them out of their places. Can you stay focused on your task when these eye-popping beautiful fruits are there?
Now, you can test your focus with this new type of match game. All you must do is to find the right pair of fruits to switch places. Your ultimate goal is to get three same fruits side by side in a vertical or horizontal line. When you get those three same fruits side by side, magic will occur, and you will see them pop out of their places. This will juggle all the fruits in the game, and all of them will be replaced. When you make all those fruits change their places, sometimes you will have new three-fruit groups that automatically pop out, totally by chance. This will make everything faster. When you pop enough fruits, you can get enough points to pass to the next level. Now, get in this enchanting forest with radiant visuals and juggle these jelly-like popping fruits to see the following levels.
If you enjoy playing Forest Match, be sure to check out New Year Pudding Match by clicking here.
Developer
Azerion developed Forest Match.
Release Date
September 17, 2021
Features
Colorful graphics
Multiple levels to complete
Entertaining and addictive levels
Intuitive controls
Radiant fruit icons
Controls
You can use the mouse of your computer to choose fruits to move.