Play Now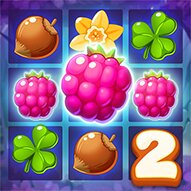 Dive deep into the heart of nature and make new friends by solving puzzles with Forest Match 2! Take quests from the forest fairy, collect the ingredients she wants, and solve mysteries! Explore new scenes, pick fruits and wildflowers, and relax in the woods! Advance through a map of puzzles and get surprise gifts!
Come and meet your new friends; fairies, squirrels, and lots of other cute wild animals are here to help you through thousands of levels! They will show you the basic moves in the first few levels, so greet them and start your first missions. You can hold a plant and slide it to swap it with the plant near it. This way, you can align three or more plants and take them out of the field! Check the required items from the left and aim for these fruits or flowers. You must make moves with that item to complete the level. Try to match more than three identical objects to get boosters and use them to boost your score. Combine different boosters and fruits to get unique results and finish levels with the highest score! Complete thousands of levels to find what's waiting at the end!
If you like this game, you can check out Cook and Match: Sara's Adventure and help Sara collect the ingredients for her dishes!
Developer
SOFTGAMES – Mobile Entertainment Services GmbH developed Forest Match 2.
Release Date
August 15, 2022
Features
Good graphics
Colorful nature theme
Adorable characters
Boosters and tips
Surprise treasures
More than three thousand levels
Available on mobile
Controls
You can use your mouse to play this game.