Play Now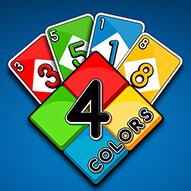 Who needs card decks and a group to play with when you have Four Colors Multiplayer! You can create or find your group in this world or play against the computer. This social and addictive classic now has servers that are active 24/7! Send your friends their invitations and get seated; because things are about to get heated!
You can choose between two main modes; online and offline. Offline mode offers you a gaming experience with up to three opponents powered by artificial intelligence. Online mode, on the other hand, gives you options. You can create a room and make it public by not setting a password, or send invitations to your friends and play with them. You can also find a quick match to duel with a random player one-on-one. Choose any name you want for yourself, join a game, and collect points by defeating your enemies repeatedly. The first player to reach 250 points wins the match. The classic rules of Four Colors apply in these matches all the same, but if you are new, you are given an open card in the middle, and players should throw the same colored cards or cards of any color with the same number or symbol. Don't forget to hit the button when you reach one card! Good luck!
If you like this classic card game, you can check out Solitaire Farm: Seasons and work on your farm during the day to play solitaire and relax at night.
Developer
Code This Lab srl developed Four Colors Multiplayer.
Release Date
October 21, 2020
Features
Singleplayer and multiplayer options
Game rooms
Easy to play
Fun for all ages
Available on mobile devices
Controls
You can use your mouse to play this game.