Play Now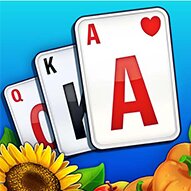 Close your eyes, listen to the bird songs, and deal the cards; because this is exactly what Solitaire Farm: Seasons offers you; a relaxing day at the farm full of games! Yes, solitaire might be a game of cards and numbers, but this theme is definitely going to give this game a new meaning.
You are sitting under the sunset, sipping your drink after a satisfying and fruitful day, and playing your favorite card game while thinking about the next harvest peacefully. This is your typical evening here. Watch over the farm and plant new crops during the day and chill out with bird sounds in the breeze at the night. There is no need for stress because even the game rules are this simple. You just have to choose one card higher or lower than the card below. Maybe make a combo and get a streak bonus once in a while, if you can. The stars you earn from the games change your income after all. Log in every day to win gifts and use the money you saved to plant more as you advance further and expand your farm. Enjoy your days in paradise!
If you like solitaire, you can check out Solitaire Collection for a simpler version and focus on the game more.
Developer
SOFTGAMES – Mobile Entertainment Services GmbH developed Solitaire Farm: Seasons.
Release Date
February 25, 2022
Features
Relaxing sounds
Beautiful backgrounds
Two games combined
More than one hundred levels
Available on mobile devices
Controls
You can use your mouse to play this game.