Play Now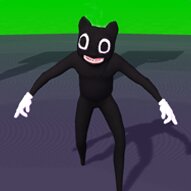 Unleash your inner monster with Freaky Monster Rush! Collect the ingredients on your way, fight men that try to stop you, break brick walls with one fist, and reach the finish line to get your monster voted! Complete your transformation to become a living nightmare, and give no peace to your enemies!
Whoever thinks the bad guys don't have fun is wrong because this run is all about fun! Remember all the creatures that brought you nightmares; today, you will face and laugh at them! Run along a track built on radioactive lava, pick up poison on your path to keep your insanity level high, and pass through gates to change your limbs to become a real monster! Even monsters have to make a living, so you can earn from the runs you complete and save money to unlock new character skins. There are two different door colors at each level, and you must go through the same-colored doors to complete your transformation and get the highest score. Some levels end with a surprise boss fight. Keep clicking or tapping to defeat the enemy monster and send them flying to a vortex! Complete stages, take down other monsters, and unlock all skins to terrorize your foes!
If you like this addictive obstacle run, you can check out our other Running Games to find more games like this!
Developer
PL Studio developed Freaky Monster Rush.
Release Date
August 10, 2022
Features
Colorful 3D graphics
Unlockable skins
Obstacles and challenging enemies
Surprise bossfights
Available on mobile
Controls
You can use your mouse to control your monster.