Play Now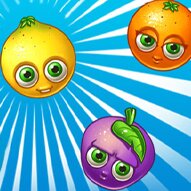 Enjoy the real-time multiplayer puzzle experience with Fruit Pop Multiplayer! Match with other players online, create game lobbies, and race to be the one to reach the goal score first! Find the most crowded identical fruit group, draw a line to connect them, and pop your delicious fruit group to score points!
Welcome to the world of adorable popping fruits and their mysteries! You do not need any accounts or passwords to join matches here; just find a nickname, any nickname will do, and choose your opponent for a quick match! You can choose your opponent in the lobby or let the game choose a random opponent for you. Then, you get to choose the level you want to play. More levels unlock as you advance further in the game. Use as few moves as possible to get the highest score. Follow the level's requirements and complete the quest with the best score point. You do not have to hurry as there is no time limit, but making your opponent wait too long can cause them to leave. Try all the boosters below to find out which works for you, and use them to close score gaps in critical situations! Good luck!
If you like this addictive multiplayer puzzle, you can check out our other Puzzle Games to find more fun games like this!
Developer
Tweensoft developed Fruit Pop Multiplayer.
Release Date
July 14, 2022
Features
Cute fruit characters
Fabulous animations and effects
Multiplayer game lobbies
Quick matches
Booster options
Available on mobile devices
Controls
You can use your mouse to play this game.