Play Now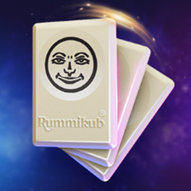 In Rummikub, challenge other players and your luck! Take your place by the table and get ready to shuffle the tiles and earn points. Whether you face other players or the CPU, break a leg and be the winner! Do you have what it takes to show everyone that you're the best player?
Luck may be important in such games, but you should also follow the tiles and plan your next move carefully to win. The objective of this game is simple. You should be the first player to place all their tiles on the table. You can play this game with your mouse. First, pick a game mode. You can create a custom game in which you can adjust the number of players and the turn time. You can try the singleplayer mode and get familiar with the controls, or click play now to try to beat others. When in the game, group your tiles either by value or consecutive order. You can add and change the tiles placed on the table by others or yourself. If you don't have a tile to use, you can draw one from the stack. Have fun playing and good luck!
Be sure to check our other popular and entertaining title Phase 10 next! Go on and explore our game collections for more free and online games to play. Enjoy!
Developer
Kinkajoo developed Rummikub.
Release Date
December 14, 2020
Features
Colorful 2D graphics
Intuitive controls
Online multiplayer gameplay option
Entertaining gameplay
Can adjust different gameplay options
Controls
You can use your mouse to play this game.