Play Now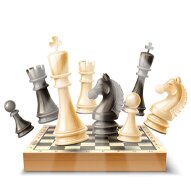 You can enjoy the simplicity of digital chess with Chess Multiplayer! Create game rooms for others to join, challenge players from all around the world, and beat everyone to become the next chess legend! Strategize your moves while watching out for enemy attacks and racing the countdown to stay one step ahead of your opponent!
One of the oldest games of human history is now in your pocket! You can use your phone or computer to log in, search for opponents, and challenge them to a chess match! There is no need for a table or pieces; you are just one click from starting a game! Log in now, choose a name for yourself, and start looking for someone to join! You can create a game or join someone else's. The difficulty varies with the experience of the players you face but keep your hopes high and keep practicing! Keep an eye on your score; it decreases each second you take before making a move. You can stay in the lobby and find players to play with, but this is not the only option. You can also send the link to your friends and ask them to join your game! Have fun!
If you like this strategy classic, you can check out Chess Mania and complete levels to improve your skills!
Developer
Tweensoft developed Chess Multiplayer.
Release Date
September 6, 2022
Features
Nice graphics
Online multiplayer chess matches
Game lobby with chat options
Increasing chess skills
Available on mobile devices
Controls
You can use your mouse to play this game.