Play Now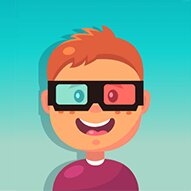 With Funny Faces, improving memory skills is so much fun! Can you memorize all these faces and put the part in their correct places? You have only 5 seconds to look at the people. Watch out for the details! Even the tiniest mistake can take one of your stars. When the image is complete, you can enjoy your scores and write your name among the best players! If you are ready now, let the game begin!
Welcome to the next level of memory games entertainment! Here, you will be facing something that you most probably have never experienced before. You will be constructing faces! How crazy is that!? Your objective is to place the face parts in the correct places. Don't worry! You will be able to see the original image before starting to replace the parts. The most challenging part is that you have only 5 seconds to memorize the faces. When the time is over, you will be left alone with an unorganized face and your mouse. Use your mouse or finger to drag the eyes, nose, mouth, accessories, hair, and all the other necessary parts. You will receive stars according to your success and timing. You also race against time during replacement. If the time runs out, you will fail, and the game is over! Good luck and have fun playing!
Not tired of improving your memory skills and looking for more adventures now? Be sure to check our collection of free and online puzzle games to browse more fun titles like this game.
Developer
MarketJS developed Funny Faces.
Release Date
July 5, 2021
Features
3D colorful graphics
Funny theme and characters
10 challenging levels to complete
Engaging and entertaining gameplay
Controls
You can use your mouse or finger to play this game.