Play Now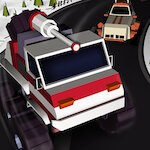 In Furious Road Surfer, get ready to show other drivers that you're the best! Jump into your fast vehicle, turn on the engines, and be prepared to floor the gas to break a record. Traffic might pose a challenge, but with you behind the steering wheel, none can stop you! Do you have what it takes to make a fortune by driving in this fun 3D game?
Other drivers should know it's best to change lanes when they see you coming on their rearview mirror. Your objective in this game is to drive as far as you can to earn a high score and lots of money. You can start the game by clicking on the play button on the main menu. There are 5 different vehicles that you can drive, but only one of them is available in the beginning, and you can unlock the rest with the money you earn by playing the game. Choose one of the two locations and start moving. You can see your fuel meter on the left side of the screen. When you run out of fuel, the game will end. But don't worry, as you can collect fuel tanks to fill the meter. Try your best to avoid hitting other cars, and drive as fast as you can! Enjoy!
If you enjoy cars, then be sure to check our other title Road Crash next. Have fun!
Developer
igroutka developed Furious Road Surfer.
Release Date
January 16, 2019
Features
Colorful 3D graphics
5 different vehicles to unlock and drive
2 different locations to play in
Multiple different achievements to earn
Intuitive controls
Controls
Use the A and the D keys to move your vehicle left and right, and press and hold your mouse on the screen to accelerate.