Geometry Neon Dash Rainbow
Play Now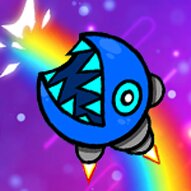 In Geometry Neon Dash Rainbow, prepare yourself to deal with geometric shapes! Your main character is square-shaped, and you must do all in your power to keep it alive! Will you have what it takes to finish all of the levels in this game? Best of luck!
Your little square character is excited to get started! However, there are some obstacles in the way. It's your job to keep it alive and help it grow forward. So, your goal in this game is to get to the finish of each level without getting killed. You may think this is a great responsibility, but all you have to do is click the screen with your mouse. To make him jump, use the left button. On the way, there are small neon squares. Collect them all to gain access to new skins for your character. From the top of the game screen, you may keep track of your progress. You will be able to unlock the following levels as you go through the game. Are you ready to take a step closer to the world of geometry now? Good luck and have fun playing.
If you want to play more skill games, and try another one similar to Geometry Neon Dash Rainbow, then be sure to check Geometry Rash, too.
Developer
kiz10.com developed Geometry Neon Dash Rainbow.
Release Date
July 29, 2021
Features
2D neon graphics
Cute characters and a theme
Simple controls
Fun and engaging gameplay
Controls
You can use your mouse to play this game.