Play Now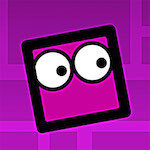 In Geometry Rash, geometry and shapes meet with challenge and fun! Take control of a square-shaped character in this game, and try your best to pass each level by avoid getting killed by various obstacles on your way. Do you have what it takes to complete all the levels in this game?
Squares are not rounds, but this won't stop the main character of this game from moving! Your objective in this game is to complete each level by reaching the end through various obstacles without getting killed. This may sound like a hard job but with the simple controls of this game, it's as easy as clicking on the screen! You can use your mouse to play, so click on the play button to start the game. Your box character will move on its own when you begin. All you have to do is to make it jump by clicking on the screen in the correct times to avoid hitting triangles, which act as spikes that'll kill you. If you touch these, you'll die and have to start from the beginning of the level. Platforms made from squares are safe to move on, so try to jump on them if you need to. Who would've guessed that the world of shapes would be this dangerous, but with you in control, this little square character has nothing to worry about. Have fun!
Looking for more challenging games like this? Then you should visit our collection of free and online skill games next. Enjoy!
Developer
Nativi developed Sliding Box.
Release Date
April 15, 2019
Features
15 different and challenging levels to complete
Intuitive controls
Fun and addicting gameplay
Colorful 2D graphics
Controls
You can use your mouse to play this game.