Play Now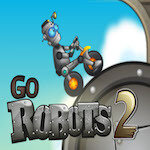 In Go Robots 2, get ready to lead our two robots back to the safety! Our favorite robots are in trouble again and need saving. But this time it wont be as easy as the last one! They need to return to their UFO but the problem is there's an evil robot at every turn. Do you think you can be the one to save them?
There's nothing quite like an adventure! You discover new places and meet new people along the journey! But these robots aren't this lucky. They've been travelling the galaxy for a while now and they've ended up in a place that isn't so charming. They need to escape ASAP! Your objective is to guide them through each of the 25 levels and make them reach their UFO. Evil robots await you on this journey and they've laid traps everywhere. So be careful and try to get rid of each obstacle to reach safety. You have to get into the portals in each level and avoid being killed by evil robots. Try to do this as quickly as possible to receive 3 stars. Activate objects, get rid of the evil robots and try to avoid lasers to get to safety of the UFO. Are you up for the challenge?
No, no! Don't leave just yet! We have more fun games for you! Wheely awaits you to share in an adventure! Play Wheely 6: Fairytale now for free and start solving the puzzles in each level!
Features
Fun gameplay
Intuitive controls
25 levels to complete
Colorful 2D graphics
Controls
You can use your mouse to play this game.