Play Now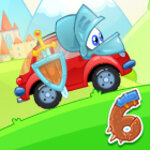 In Wheely 6: Fairytale, join the adventurous red car and his girlfriend as they visit the local theatre. With a highly active imagination, Wheely started daydreaming about medieval times, and he needs you by his side in this epic journey. Help him save the princess from the evil sorcerer, and become the hero the realm needs!
After so many adventures, Wheely thought it would be great to unwind a little. But instead, he found himself in another adventure, and you should help him with his quest. Similar to the other titles of this series, your objective in this game is to complete each level by getting rid of various dangers and obstacles on Wheely's way. You can play this game with your mouse. The game features 14 different levels. Click on levers, buttons, and other objects in each level to activate them. You should click and use objects in a certain order to clear the way for our adventurous and brave character. On some levels, you must time your actions carefully, or Wheely might get stuck or even die! That's not a fitting end for a hero, so be careful! You can earn up to 3 stars on each level. You get one star for completing the level and can earn the other two by finding hidden items, a toy car, and a wheel. Good luck and save the princess before it's too late!
Enough daydreaming, time to go back to work! Join this character in his next adventure, Wheely 7: Detective! Enjoy!
Developer
Pegas Games developed Wheely 6: Fairytale.
Features
14 different levels to complete
Entertaining gameplay
Different puzzles to solve
Colorful 2D graphics
Intuitive controls
Controls
Use your mouse to play the game.