Play Now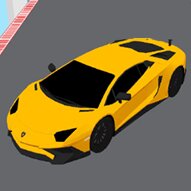 Grand Theft Stunt gives you the opportunity to show off your balanced driving skills with a luxurious car! Drive on a deadly track built in the sky and test your patience and driving skills! Are you ready for a driving challenge on this extraordinary road full of obstacles? Sit tight, fasten your seatbelts, and enjoy your stunning 3D dream vehicle!
Yes, there will be riding, but no one said it would be peaceful. If you check the top of your screen, you will see that you have seconds to reach the finish line without touching the edges. There are no extra chances, no shortcuts, no flying cheats; it's just you and your precise steering abilities. The turns are visibly sharp, and it is not a wise idea to let your car fall off the road when there is nothing under it, so keeping your speed low can make things a little easier. The first few levels are short, but it is only natural to panic when you get to the longer tracks. Rushing and worrying about the time make things much harder from the start, so relax and give yourself some credit for coming this far! Keep up with the countdown and complete ten difficult levels successfully!
If you like this challenging driving game, you can check out Crazy Intersection and try your skills with traffic!
Developer
FBK developed Grand Theft Stunt.
Release Date
February 14, 2022
Features
Colorful 3D graphics
Addictive and challenging gameplay
10 levels
Available on mobile devices
Controls
Use "W, A, S, D" to play.