Play Now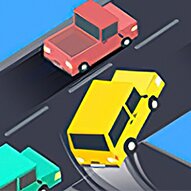 Crazy Intersection helps you get the creativity out and running by testing your patience in some annoying traffic action. How you deal with it in real life does not mean anything here, as you are in control of tens of cars, trucks, and ambulances here. Breath in the heat, the sound of horns, and the curses shouted, and relax. At least the crashes in this realm don't have consequences out of here.
Every car has a story; that ambulance is trying to reach a patient to save lives, this firetruck will rescue a cat from a tree, the taxi over there is in working hours, and the angry old lady in the back wants to go home after a visit to her grandchildren. Now focus on these lives and keep them from hitting other vehicles. Wait for the exact second, cross your fingers, and go! Congratulations, you have just sent one on its way, only forty-six to go now. You can channel this stress into something useful though; like collecting coins while trying to keep these people out of traffic trouble. Grab the blue coins to trigger a boost and send all the vehicles in that row at once. Don't let the changing angles confuse you. Upgrade your cars with gold and keep advancing!
If you like games that test your timing skills and reflexes, you might also enjoy Zik Zak.
Developer
wey.game developed Crazy Intersection.
Release Date
March 1, 2022
Features
Colorful 3D graphics
Easy to play
Upgradable cars
Available on mobile devices
Controls
You can use your mouse to play this game.