Play Now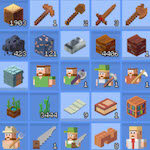 In Grindcraft Remastered, be prepared to get your hands dirty! Found yourself in a world without any tools or items, it's time to use your creativity and resourcefulness. Collect various resources and use them to discover and craft different objects. Do you have what it takes to unlock every item and become the ultimate crafter?
Your bare hands are your best weapons in this game, as you'll be using them to gather your first items. On the game screen, you can see tools and objects you can craft on the right side. But to create these useful objects, you must collect basic resources. Hover your mouse over the items to see which resources and tools you need to craft these items. To start collecting, you should click on the different sections located on the left side of the screen. In the beginning, only the overworld location is unlocked, but you can discover others as you play. From the overworld, you can collect wood and turn those into planks. You can create sticks with these planks and craft your first tools. From mine, you can collect stone to craft weapons, and then you can start to kill enemies to collect different items. As you discover and craft new items, you'll also earn achievements. You can track these by clicking on the trophy icon located on the bottom right side of the screen. Enjoy!
When you're done, why not try our other popular game, WorldCraft 2? Have fun!
Developer
Agame developed Grindcraft Remastered.
Features
Colorful 2D graphics
Intuitive controls
Entertaining gameplay
Dozens of different items to craft
Multiple achievements to unlock and earn
Controls
You can use your mouse to play this game.