Play Now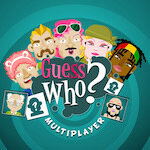 In Guess Who it's time to reveal your true identity! No masks, no lies, just the truth! We are all liars here and everyone who has a secret agenda is trying to hide behind masks! But it's time to change all that and everything depends on you! Are you ready to drop everyone's mask and reveal who they really are?
Do you see that? Someone is lurking in the shadows! Don't you think you should find out who he is? Let's go then! In this game your objective is to guess who your opponent has chosen on the board before they guess yours! Is your opponent a male? Is he wearing glasses? Does he have a beard? Ask your opponent everything that you wonder and try to find his mystery character on the board! They will also try to find who you have chosen as your character and you must answer truthfully! Because we are all about honesty in this game! Choose your mystery character first and then start asking questions to your opponent. Both of you will ask questions to each other until you narrow down the board to one character! Ask the best questions and be the one to find out who your opponent is! You can play this game against an AI opponent or a mystery person from all around the world! Choose your character and ask away!
Be sure to check our collection of online and free puzzle games to solve other mysteries!
Developer
Code This Lab
Release Date
November, 2018.
Features
Different characters to choose
Play with other players from over the world
Intuitive controls
Entertaining gameplay
Controls
Use left mouse button to play.