Play Now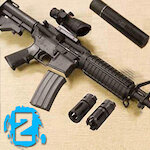 In Gun Builder 2, continue building the most amazing weapons and test them. Pick different parts, combine them, and create the next best weapon.
From tiny pistols to big shotguns, you can build anything you want! The objective of this game is to use the different parts to build guns according to the blueprints. You can play this game with your mouse. Start the game by clicking on the play button on the main menu. In the beginning, you'll only have very few parts. As you level up, you'll unlock more parts and weapons. Pick a part from the left side of the screen, and drag to the blueprint to place it. Once you complete building the gun, you can test it by shooting target practice boards. When ready, you can continue to the next level. The game features a creative mode. You have no limitations in this mode and can create any kind of gun you want with the parts you've unlocked. What about a shotgun that fires rockets or a machine gun in the size of a small pistol? Anything is possible!
If you enjoyed playing this game, be sure to check the first game Gun Builder, by clicking here. Have fun!
Developer
DAB3 games developed Gun Builder 2.
Release Date
December 4, 2017
Features
Many different weapons that you can build
Different weapons parts to use
A creative mode to create that perfect weapon
Simple controls
Controls
You can use your mouse to play this game.