Play Now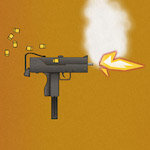 With Gun Builder, get ready to live a unique shooting experience that you cannot find anywhere else! Built various guns and other types of weapons designed specifically for you and then put them in trial tests. Learn from the beginning how to create the weapons using different pieces of equipment and start the game right now to feel like you are on the range!
We believe the shooting is the best way to relieve stress! Thanks to this fun skill game, you don't need any real tools or going to the shooting range to experience that feeling. Play in the assemble mode if you are a beginner at guns. But if you are an expert, you can select the creative mode and build the guns without guides. Your objective is to select the pieces from the left side of the screen and complete your current gun to shoot all the targets later on. Select the parts to build the weapon one by one from all the categories you see on the left. You can start with grip and pass to frame, barrel, and add-ons at the end. The order is not that important, but it will make your work easier. Then you can finally pass the shooting stage. Destroy the targets by keep clicking. You can see your remaining bullets on the right side of the screen, but the gun reloads itself automatically. As you progress, new parts will be available! Have fun!
If liked this game and want to try another shooting adventure in the stickman world, be sure to check Stickman Shooter 2.
Features
Colorful 3D graphics
Multiple guns to build
2 different game modes to choose
Passing levels by shooting the targets
Controls
You can use your mouse to play.