Play Now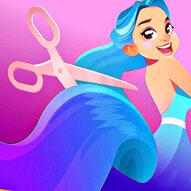 In Hair Challenge Online, it is time to show everyone your fabulous hair. While short hair may be beautiful, in the land gorgeous anime girls, nothing can be as beautiful as long hair. A re you ready to challenge others and see whose hair is longer and more pretty?
Dear Rapunzel of these lands! It is time to let your long hair down for this fun running game. Let it grow and let it shine even more on your way to victory. Your objective is simple. Grow your hair as much as you can before you reach the finish line. To play, all you need is your mouse. Press the left mouse button to control your character. There are many platforms along the way that you need to pass through. While most of them will let your hair grow, change color and shine even more, the red ones will make your hair burn. Try not to step onto the red platform to keep your hair long. Stay away from the obstacles and scissors along the way. Collect all the stars to unlock new skins. At the end of each level, click on the screen as fast as possible to roll on the floor even further and earn more stars. Have fun playing!
If you are looking for more games like this one, you can check out our collection of online 3D games . Enjoy!
Developer
YAD.Com developed Hair Challenge.
Release Date
July 12, 2021
Features
Fun and addictive gameplay
Colorful 3D graphics
New skins to unlock from the in-game shop
Many levels to complete
Controls
You can use your mouse to play this game.