Mystery Venue Hidden Object
Play Now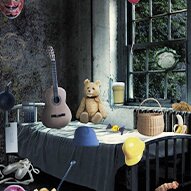 Bring light upon many secrets in Mystery Venue Hidden Object! You found yourself in the middle of an abandoned mansion in the woods. Now, you have many questions in mind, and you must solve them to get out of this place. Can you find all the clues in this mysteriously haunting place?
Get ready to look for tiny details and anything that comes to your mind. In these spooky places, you go to, there are many hidden objects that you should find. As a matter of fact, you should do this in a limited time. If you believe that you can hunt tiny objects, then you are good to go. In the first level, you are given pictures of some objects which you can use to find those missing things. You will start to see only the silhouettes of the objects in the following levels, which will make things a bit harder. Occasionally, you will have minigames in between the levels to let your eyes rest a little. You will match three same items and get them side by side. This will make them pop out of their place and help you get points. So, now get your hands on this mysterious business and try to find all the hidden objects in this magically secret place.
If you enjoyed playing this mysterious hidden object game, you should also try playing Hidden Objects Hello USA by clicking here.
Developer
Origaming Media developed Mystery Venue Hidden Object.
Release Date
October 04, 2021
Features
Colorful graphics
Intuitive controls
Multiple levels to complete
Mystical and colorful background visuals
Controls
You can use the mouse of your computer to choose the objects and to play the minigames.