Play Now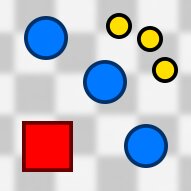 Hardest Game Ever invites you to the hardest challenge ever! Featuring several levels and fun graphics, this puzzle game will lock you in front of the screen for hours of fun! You can test your high attention and concentration skills while having lots of fun. Get your fingers ready now and discover how long you will be able to survive in this crazy maze!
How much do you trust your abilities and intelligence to find your way out of this crazy maze? The field you are entering is full of obstacles and challenges. Garde your patience and courage because you are going to need them! In this fun puzzle and skill adventure, what you are going to do is to reach the finishing spot by avoiding the obstacles. You are controlling the red square. Your objective is to collect the yellow circles and reach the big green area. You should use your arrow keys to control your character. The left and right arrows allow you to move back and forward. The up and down arrows allow you to go up and down. As you proceed in the game, the difficulty level will increase as well. Avoid all the other shapes in other colors. If you fail because of hitting an obstacle, you can restart your current level. Good luck now and have fun playing!
If you are looking for another game as fun and challenging as this one, then be sure to check Ladder Climber
Developer
TrendyGames developed Hardest Game Ever.
Release Date
May 28, 2021
Features
2D colorful graphics
60 challenging levels
Keyboard controls and joystick
Fun and engaging gameplay
Controls
Use the up and down arrows to go up and down. Use the left and right arrows to go left and right.