Play Now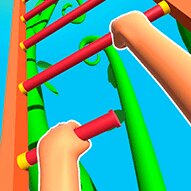 In Ladder Climber, you have no other choice except to keep climbing the ladder! In this journey, you will be traveling even above the highest mountains of our game portal. Guard your patience, try to move, and never ever dare to look down! Some steps are broken and they may cause you problems. We are sure, you can handle this journey with your amazing focusing skills. If you are ready, let the journey begins!
Are they the clouds that we see ahead? Or are they the last pieces of your hopes for holding on to this broken ladder? Either way, you must keep going no matter what. In this fun skill game, your objective is to climb the ladder as long as you can. You should use your hands and watch out for the broken steps, to do so. The right button, situated at the bottom of the game screen allows you to hold the following step. With each click, you switch automatically switch the hands. The left button allows you to switch your hands according to the following step. You have 2 to spend. If you fail to hold the steps 2 times, the game is over. You can track your lives that you can track from the left top of the screen. Are you ready to find out how long you will be able to survive?
If you want to try another game similar to this one, then be sure to check Climb The Ladder by clicking here.
Developer
Super Apps developed Ladder Climber.
Release Date
May 21, 2021
Features
3D colorful graphics
2 lives to spend
Endless climbing journey
Fun and engaging gameplay
Controls
You can use your mouse or finger to play this game.