Play Now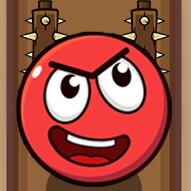 Help a little red ball roll through a tricky track full of deadly obstacles with Heroball Run! Collect shiny stars, dodge incoming dangers, and keep your little red buddy away from harm! Improve your reflexes while breaking new records and unlocking colorful skins for your character! Let's dive further into this fun world!
The little red ball is on another adventure again! This time it is an endless obstacle course full of dangers and traps! There are gigantic trees, metal and wooden spikes, barriers, and spiky sticks planted on your way. But no worries; your only goal is to break a new record and improve your best score. So, let's get to this thrilling infinity run. Control your character with the four main direction commands. You can steer it left and right, jump, and duck to last as much as possible. There is no harm in collecting the golden stars on your way but keep an eye on the incoming traps. You can save your stars and use them in the game shop to unlock five other character skins! Save stars to unlock all skins and stylize your teammate! Pick up boosters to last longer and break new personal records!
If you like this challenging obstacle run, you can check out Tom Runner and help your favorite cat run out of sticky situations!
Developer
kiz10.com developed Heroball Run.
Release Date
July 21, 2022
Features
Good 2D graphics
Cute cartoon character design
5 unlockable skins
Endless gameplay
Available on mobile devices
Controls
You can use your mouse or the arrow keys to play this game.