Heroes of Myths: Warriors of Gods
Play Now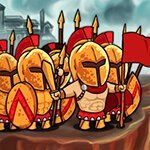 Heroes of Myths: Warriors of Gods is taking you to the most epic battle of all the mythologies coexisting in one fun action game! It is only a matter of time that the enemy forces attack your precious temple giving all the supernatural beings their power. Select a god and a hero, empower your soldiers, and destroy the evil opponents one by one now!
From the beginning of time, evil and light have always been in an endless war. You are, of course, the strongest commander of the light power team who swore to beat the evil forever. Place your army strategically by clicking on the soldiers to protect your temple from the enemies. Each soldier has a different weapon and function in the battle. Choose the god according to their extra powers, such as life refreshing and providing extra protection. Once you step into the battlefield, deploy your units, and don't forget to use the god power situated at the top of the screen. Each kill will earn you some ancient money in the game, and you can use your earnings to upgrade the hero, gods, and unit stats to be undefeatable in the next war! Follow your path, pass the levels, and build peace in the universe again!
Be sure to check our collection of free and online strategy games by clicking here to step into more mystical wars lasting for ages for you to put an end!
Developer
Kizi developed this game.
Release Date
June 14, 2017
Features
2D colorful graphics
3 heroes to select
3 gods with different powers
Hero, unit and god stats upgrade
Controls
You can use your mouse to play this game.