Play Now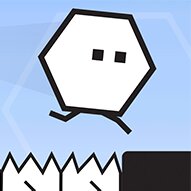 Meet Hexoboy; a hexagon-shaped boy trying to collect all the crowns hidden in his fantasy world that is full of obstacles and ladders! He will need your help climbing ladders and stairs, pushing heavy boxes, using elevators, and creating the shortest ways to reach his goals! Can you help him find what he is looking for and reach the flag?
Our geometrical hero's ultimate aim is to find and collect all crowns hidden on puzzle platforms to pass all levels with three diamonds. He will need someone to direct and help him move objects and cross platforms in the right order to do that. Climb up and down, jump between platforms, and use materials around you. You can find boxes that you can move around and step on to reach higher spots with stars and crowns. Activate mechanisms by stepping on them or putting boxes on buttons. Avoid touching spikes as they mean instant death to your character. Collect all stars and crowns to finish levels with three diamonds. The level ends when you touch the finish flag, so complete your work with the stage and then get the flag. You can always go back to the completed levels and give yourself another shot!
If you like this platform adventure, you can check out Fireblob and bring the light back to the world!
Developer
ALMA Games released Hexoboy.
Release Date
April 20, 2022
Features
Nice 2D graphics
Cute character design
Addictive and fun puzzle
Easy to play
Available on mobile devices
Controls
You can use the arrow keys to move and the spacebar to jump.