Play Now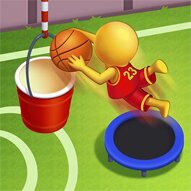 Take shots while jumping on a trampoline with Jump Dunk! Get matched with other players and try to get the ball into the plastic glasses while your character keeps jumping non-stop! Pass levels, win races, and face boss levels with the most challenging basketball players! Let's start with the first levels on the beach!
Basketball can get difficult when you are jumping non-stop, but here, the enemy is in the same situation. You are bouncing on two parallel trampolines placed in front of the cups. These are the goals you will be using instead of traditional hoops. So, grasp the motion and start shooting! Even if you use the same exact place to take your shot, going up and down changes the momentum of the ball, affecting its direction. Shooting the ball while doing up sends it upwards, while doing the opposite sends the ball down. Try all positions to observe the chances, and keep practicing to add them to your muscle memory. Your opponent gets better at the boss levels; be quick to pass them and reach the finish line. Complete levels to master this jumping basketball game, and face the most challenging enemies!
If you like this fun challenge, you can check out our other Skill Games and find more games like this!
Developer
2Play developed Jump Dunk.
Release Date
September 7, 2022
Features
Colorful 3D graphics
Improving timing skills
Addictive and satisfying gameplay
Increasing difficulty
Boss levels
Available on mobile devices
Controls
Click with your mouse or tap on the screen to shoot.