Play Now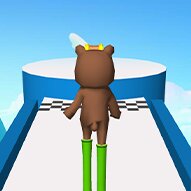 In High Shoes, these shoes were made for walking! High shoes may be difficult to walk in for some people, but it definitely isn't for this bear right here. Featuring nice 3D graphics and many different levels, the world is your podium in this fun game. Are you ready to take control of this character and show everyone how it is done?
Make way for the supermodel! The runway will see a real catwalk from a bear for the first time in a while. Wear your prettiest shoes made of bamboo and start walking. Your objective is to reach the end of the podium and get hold of the treasure box. Press the left mouse button and swipe left and right to control your character. This podium is designed for the very best to show everyone how you mastered the ability to walk in high shoes. That's why there are a lot of obstacles on the road. To pass them and reach the end, you need to collect the extra bamboos you see on the road. Collect as many of them as you can to avoid hitting an obstacle and falling down. The level ends when you reach the finish line. However, there is a platform above the finish line with a treasure chest on it. To acquire the treasure, collect as many bamboos as you can. With the treasure, you can unlock new skins! Have fun playing!
If you want to play more games like this one, you can check out our collection of online skill games by clicking here. Enjoy!
Developer
BPTop developed High Shoes.
Release Date
May 12, 2021
Features
Nice 3D graphics
New skins to unlock
Many levels to complete
Fun and addictive gameplay
Controls
You can use your mouse to play this game.