Play Now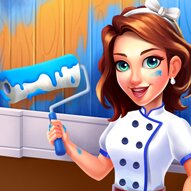 In Home House Painter, it is time to build your own town. Featuring colorful 2D graphics and fun gameplay, this game features many different levels that will lock you in front of the screen. If you are ready to build a town from scratch, click on the play button and let's start playing now!
Welcome to the town of vibrant colors! We want to build a town that is full of houses of beautiful, lively colors. All the house plans are ready, and all we need is a painter who will unleash all their creativity. If you think you qualify for the position, let's get going now. Your objective is to paint every inch of the house by solving the puzzles. To play, you can use the arrow keys. What you need to do is paint the white areas of each house. There are no rules. You can pass over the areas you have already painted. There is also no time limit. As the game progresses, you may face more challenging levels. Just take your time and figure out how to paint all of the houses. For every house you paint, you will earn money that you can use to build new houses and even upgrade them. Have fun playing!
If you are looking for more colorful games to play like this one, you can check out Lines. Enjoy!
Developer
Mad Buffer developed Home House Painter.
Release Date
June 15, 2021
Features
Colorful 2D graphics
Many different houses to paint
Intuitive controls
Fun and addictive gameplay
Controls
You can use the arrow keys to play this game.